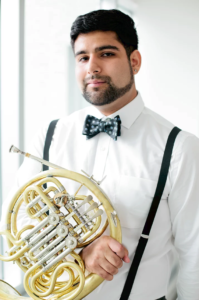 Alex Henton
Alexander (Alex) Henton currently resides in Minneapolis, Minnesota and is an active international French Horn player. In 2014, Alexander was appointed a 3-year Principal Horn position with the Hyogo Performing Arts Center Orchestra in Japan and later went on to hold the position of Principal Horn with the Sichuan Symphony Orchestra in China. In 2022, Alexander became a fellowship recipient of the Sphinx organization NAAS grant. A grant designed to assist young African American and Latino musicians bring representation to American Orchestras.
Alexander's career has brought him the pleasure of playing with members from other leading international orchestras such as the Berlin Philharmonic, Concertgebouw, Tokyo Metropolitan, NHK, The Philadelphia Orchestra and The Chicago Symphony. In addition, he has performed Principal Horn under critically acclaimed conductors such as the late Sir Neville Mariner, Yutaka Sado, Charles Dutoit and Daniel Harding.
At age 16, Alexander left Chippewa Falls, Wisconsin to finish his schooling at Interlochen Arts Academy. He later went on to complete his Bachelors in Horn Performance and Music Theory from Temple University. In 2012, Alexander was accepted into the New England Conservatory of Music. There he studied with members of the conservatory, Jeffrey Lang (Associate Principal Horn of The Philadelphia Orchestra) and Denise Tryon (Former Fourth Horn of The Philadelphia Orchestra).
Just weeks prior to finishing his Masters in Horn Performance, Alexander won an orchestral member placement in the Hyogo Performing Arts Center Orchestra and moved to Japan. While overseas he toured with the orchestra performing the fourth horn solo in Beethoven 9 to sold out audiences, ranging from 2,000-12,000 patrons. After completing his 3 years with the orchestra, Alexander was accepted into the Sichuan Symphony in Chengdu, China as Principal Horn, a position he held for just over a year until the pandemic.
Through his travels to many countries, Alexander was fortunate enough to immerse himself in various cuisines. and cultures. Thus, he developed a passion for cooking and loves to try and replicate dishes from Thailand and Italy in particular. When Alexander is not playing his French Horn, you can find him with his dog, Paxton hiking trails in Minnesota. Alexander currently resides in Minneapolis, MN.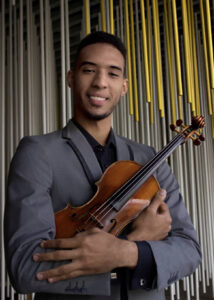 Jesus Guzman
Born in Vargas, Venezuela,
Jesus Guzman
began to study violin at the age of 7 years old. He was trained at the Latin American Violin Academy in Caracas, Venezuela with the Master Francisco Del Castillo. Jesus holds a degree in violin performance from the Simon Bolivar Conservatory of Music, as well as an associate degree in Soloist Violin performance.
Jesus played professionally for 5 years as a member of the first violin section of the Simón Bolívar Symphony Orchestra of Venezuela under direction of Gustavo Dudamel and Diego Matheuz. With this ensemble, he participated in a number of International and National Tours. Jesus has had the opportunity to perform with important international conductors such as Simon Rattle, Maxime Pascal, Christian Vasquez, Dick Van Gasteren, and many others. Jesus also has played in different masterclasses with extraordinary violin masters such as Guy Braunstein, Thibault Vieux and Alexis Cardenas. Most recently, Jesus received a special mention in the Medici International Competition in 2021.