Join the orchestra for its concert season opener!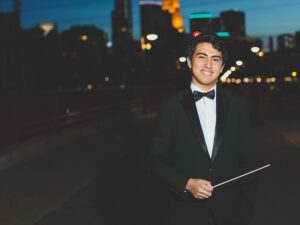 David Carrillo, Music Director and Conductor
Born and raised in Costa Rica, Jose David Carrillo Silliezar comes from a musical family. Starting on the violin at the age of four under his mother's instruction, he was also shaped early as a conductor by his father, a choral conductor himself.
While finishing schooling in Costa Rica and working for the Universidad de Costa Rica, David was also an active performer, giving solo and chamber recitals in Costa Rica, Italy, El Salvador, Peru, Panama, Nicaragua, and across the United States.
David holds an undergraduate degree in violin performance from the University of Minnesota and is currently finishing his doctoral degree in orchestral conducting and violin performance at the same institution. David is currently studying with Dr. Mark Russell Smith and Sally O'Reilly.
When David is not busy conducting or playing his violin he enjoys cooking, playing chess and hiking around the many lakes in the Twin Cities area.