Join the orchestra for its concert season opener!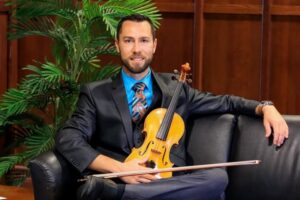 Will Samorey, Violin
A native of Des Moines, Iowa Will Samorey began playing piano at the age of four and began studying violin in elementary school. While still in high school he was asked to be the Assistant Concertmaster of the Buena Vista University Orchestra Festival in California. While attending the University of Iowa and studying with Annette-Barbara Vogel, Will chose to follow her to the University of Western Ontario (UWO) to continue his studies. Will held various principal violin and concertmaster positions with UWO's symphony orchestra, opera and musical programs and graduated with a B.A. in Music with honors in Violin Performance. Other teachers included Won-Bin Yim, Yehonatan Berick, Vasile Beluska, Stacey Woolley and Jonathan Sturm.
Professionally, Will has performed with numerous professional and community orchestras, including concertmaster positions with Jersey Productions, Seven Hills Symphonietta and engagements with the Clermont Philharmonic; International Symphony Orchestra; Middletown Symphony Orchestra; and Pittsburgh Civic Orchestra. Currently, Will is the concertmaster for the Golden Valley Orchestra and is a frequent substitute with the Quad Cities Symphony Orchestra, Sioux City Symphony Orchestra and the Des Moines Symphony.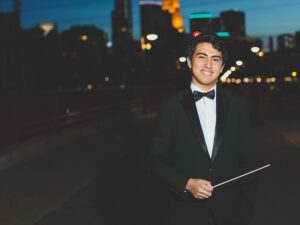 David Carrillo, Artistic Director and Conductor
Born and raised in Costa Rica, Jose David Carrillo Silliezar comes from a musical family. Starting on the violin at the age of four under his mother's instruction, he was also shaped early as a conductor by his father, a choral conductor himself.
While finishing schooling in Costa Rica and working for the Universidad de Costa Rica, David was also an active performer, giving solo and chamber recitals in Costa Rica, Italy, El Salvador, Peru, Panama, Nicaragua, and across the United States.
David holds an undergraduate degree in violin performance from the University of Minnesota and is currently finishing his doctoral degree in orchestral conducting and violin performance at the same institution. David is currently studying with Dr. Mark Russell Smith and Sally O'Reilly.
When David is not busy conducting or playing his violin he enjoys cooking, playing chess and hiking around the many lakes in the Twin Cities area.